Estate Sale
Aynsley China. "Cumberland" #7213 Burgundy 1920's, with cream and gold. Assorted pieces, to be sold individually or as a group.
7 teacups
9 saucers for teacups
4 saucers for two-handled cups (dessert or soup?)
2 small plates (dessert?)
1 medium plate
3 dinner plates
Lenox china. 1982. "Autumn". Same pattern chosen by Nancy Reagan for the White House. Sugar bowl and lid, some plates, cups, saucers. Some are in VG condition, some are fair.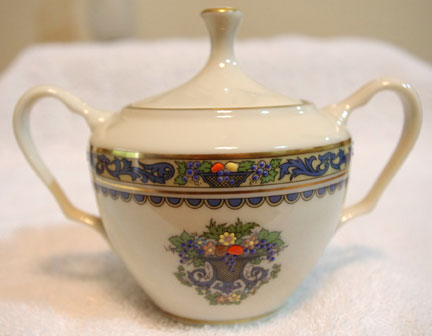 Lladro nativity figurines: Baby Jesus $70, Cow $135, Lost Lamb Girl $115, St Joseph Kneeling $85, Little Jesus $42, Holy Family (one piece) $45 as is, Melchior King $60, Gaspar King $75, Baltasar King $75, Shepherd with Lamb $65. These prices are 1/2 retail or less. Some pieces are discontinued. They are not from a matched set.
$40 Mahogany wastebasket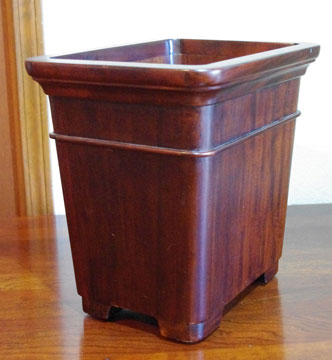 $700 Bed headboard, King size, Limited Edition by Bob Timberlake. Was sold by Lexington Furniture, out of production. Beautiful, hand crafted woodworking. Very Good condition.
$500 Antique table and chairs. Beautiful ribbed detail on the legs of the table. Legs have casters. Chairs have very fine carving of leaves on the upper back. The seats are caned. There are 4 chairs, although I only photographed 2 at this time. The other two are still in storage. There is some cracking and wear to the table top. The table can be extended, but I do not have the leaves.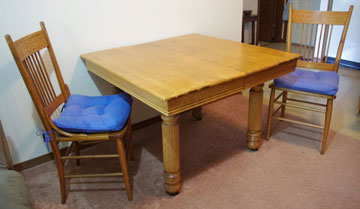 $125 A doll for the discerning collector. Numbered and certified from the Schneider Doll Company. Trachenpuppe Folklore Doll Limited Edition with certificate. This doll is in her original box and in absolutely new condition. From the Schneider Doll Company, hand made dolls since 1934. Fine hand painted porcelain face, hands, legs, and feet. Glass eyes, exquisite detail, embroidery. Quality materials used to create authentic clothing. I bought this doll myself in Viechtach, Bavaria, Germany in 2001. More pix available.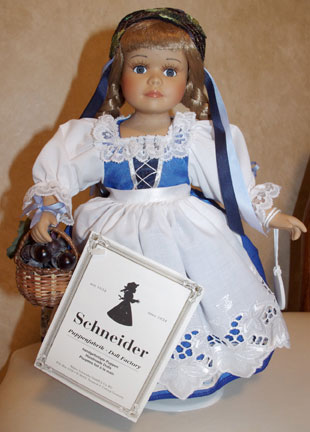 This doll belonged to my aunt and it ha dbeen given to her by someone who had it as a child, so it goes back to the 19th century, I think. See image below. She is in very good condition for her age. One arm needs to be reconnected. $200
$75 Dragon by Rick Cain. 1991 "Searchers" #457/2000. Value of $250 on his website a few years ago. I can't find any for sale now

$25 Nikonos III Underwater Camera circa 1980, with lens. Good condition. $100. May be used on land also. For depths up to 160 ft. (50 m)

$25 Nikonos III Underwater Camera circa 1982, with lens. Very good condition. I don't think it was ever used. May be used on land also. For depths up to 160 ft. (50 m)

Nikkor Lens. Fits the above camera, it is for close ups, I think. 28mm $65 Excellent condition
Art Collection
Many Paintings and prints. Salvador Dali - Original Woodblock Engraving, Etching by Malcolm Childers.
$75 Set of samurai swords and wooden display stand. Well made replicas.
Computer stuff
$100 Epson Professional Scanner. Does transparencies. $800 new
$20 Epson NX100 Printer, with ink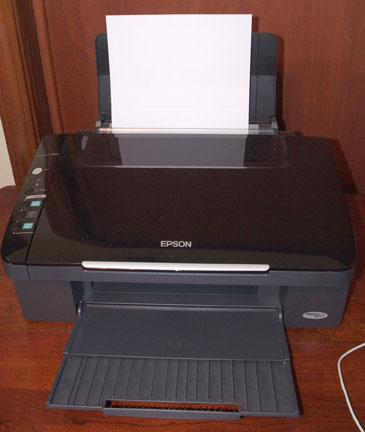 $20 Crockery jug, antique
$40 Basket from south america. Very lovely woven pattern and shape, with lid and handle. Purchased on Isla Margarita, Venezuela